Hotels in this category will typically cost between 15000 – 30000 yen per night. Like many hotels in Japan, room sizes may be smaller than in the West but they will be clean and comfortable and have ensuite bathrooms, TV, phone, internet, a fridge and drinks making facilities.
Hotels of this type will usually have at least one restaurant and breakfasts are likely to be buffets.
Filter
Region:

Select...

All
Central Honshu
Hokkaido
Kansai
Kanto
Kyoto
Kyushu
Northern Honshu
Okinawa
Shikoku
Throughout Japan
Tokyo
Western Honshu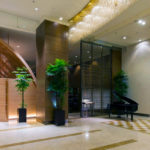 The recently renovated ANA Crowne Plaza Hotel is conveniently located close to the Peace Park and is easily accessible from Hiroshima Station. The hotel boasts a comprehensive fitness centre, as well as an indoor swimming pool. Japanese, Chinese, and French restaurants are among the other extensive facilities on offer.