Staying in a temple is a wonderful way to really experience Japanese culture. A shukubo stay can be arranged in a variety of places but most commonly in one of the many temples atop sacred Mt Koya.
Staying in a temple overnight is much like staying in a ryokan; you'll sleep on futon in a tatami matted room and will enjoy a delicious multi-course dinner, although at a temple, this will be shojin ryori; Buddhist vegan fare.
Filter
Region:

Select...

All
Central Honshu
Hokkaido
Kansai
Kanto
Kyoto
Kyushu
Northern Honshu
Okinawa
Shikoku
Throughout Japan
Tokyo
Western Honshu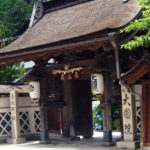 Centrally located, Daien-in temple is one of the oldest religious places in Koyasan. Originally named Tamon-in during the 10th century, the temple became famous for the statue of Amida Nyoria. Guests can attend the daily morning chanting Buddhist ceremony before eating a delicious vegetarian breakfast.