There aren't many places in the world where it's possible to enjoy driving a go-kart along the major roads of a capital city but this is another of the many unusual experiences that Tokyo offers. Robin from the UK office and Ayami & Yu from the Tokyo office went along to check the experience out.
MariCAR are a Tokyo based company offering a variety of courses around the city from several store locations. We made our way to the Akihabara branch, from where we had booked a 2 hour course that would take us to Rainbow Bridge, Odaiba, Tokyo Tower and Ginza, before returning to Akihabara.
The first thing to do once we arrived was to make sure that we all had the right driving licences; to do this as a foreign visitor to Japan, you'll need to have an International Driving Permit. We then chose our costumes – they have a wide range to choose from, including characters from Mario Kart, Super Heroes as well as Disney & other characters, all with full body suits. Robin plumbed for Mario, Yu went for Waluigi and Ayami chose to be the bright orange Tigger. There are also a variety of optional extras, which include helmets, goggles, LED sneakers, bluetooth speakers to play your own music and even a fake moustache.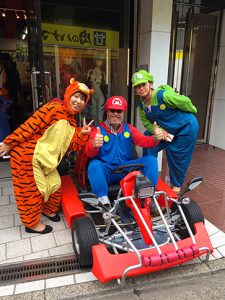 Once all suitably attired, we were escorted by our guide across the road to where the go karts were waiting for us. We were then given a brief lesson on operating the go-karts and driving safety before setting off behind our guide in single file through the streets of Akihabara.
It was very quickly apparent that the throngs of pedestrians and shoppers crowding the pavements were enthralled by the sight of go-karts being driven by colourfully dressed characters. Everywhere, people stopped and stared at us, taking photos, smiling and waving; we got a brief taste of what it must feel like to be a celebrity!
Being so low to the ground, even at relatively gentle speeds, it felt as though we were driving pretty fast and the streets of Tokyo have plenty of traffic so we needed to be very vigilant about what was going on around us, while also keeping a sharp eye on our guide. Most cars around us were considerate but taxis in particular seemed to find us a nuisance and had no compunction about cutting in and separating us from time to time. Despite this, the experience felt safe and the guide told us later that they'd never had an accident.
Driving over the Rainbow Bridge allowed us to speed up and it was quite a thrill driving at close to 40mph in a go-kart, trucks roaring past us in the next lane, with the stunning view across the river of the Tokyo skyline.
Reaching Odaiba, we navigated into a multi-storey carpark, where we lined up and parked before taking a stroll around the area. Since we were still in costume, despite being away from the go-karts, we still found ourselves the centre of attention and several times tourists asked us to have photos taken with them. "I'm not the real Mario", I told a couple of Chinese tourists who had asked to have their photo taken with me. "We know," they replied, "but still…"
Back to the go-karts after our rest, we headed on back to Akihabara through the Ginza, one of Japan's most famous upmarket shopping districts. Here again, all eyes were on us as people took a break from Prada & Gucci to enjoy the peculiar and colourful sight.
The two hour experience seemed to come to an end too soon and I would gladly have enjoyed another hour. This really was a huge amount of fun and for anyone up for something slightly daft but definitely unique, go-karting through the streets of Tokyo is highly recommended!