A volcanic archipelago with a high rainfall, Japan is a land of abundant natural hot water, and onsen are popular throughout the country. Nothing is as intensely soothing as a soak in geothermic onsen pools, and many of the minerals in the water are thought to have healing properties .
Onsen bathing has its own etiquette, which is easy enough to follow: men and women enter separate pools, leaving their clothes in wicker baskets in separate changing areas (often marked by a red curtain with the character 女 for women and a blue curtain with the character 男for men). The bathing experience is almost a ritual: bathers scrub themselves from head to toe and rinse thoroughly before stepping gently into the piping hot pool.
Bathing naked with strangers with only a small towel for cover can be a daunting experience, but once in the steaming water, concerns about modesty melt away. Calming, cleansing, relaxing and nearly meditative, it's a liberating experience that's well worth the initial trepidation.
Filter
Region:

Select...

All
Central Japan
East Japan
Hokkaido
Japan Alps
Kansai
Kanto
Kyoto
Kyushu
Northern Japan
Okinawa
Shikoku
Southern Japan
Throughout Japan
Tokyo
West Japan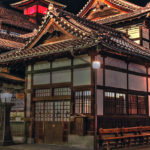 Dogo Onsen is one of Japan's oldest and most famous hot springs and is a very popular tourist attraction in Matsuyama. Dogo Onsen has also been a frequent destination for Japan's Imperial Family and is also thought to be the inspiration for the bath house in the Studio Ghibli movie Sprited Away. The main attraction…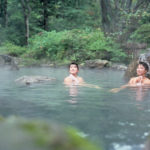 Even away from the more obvious volcanoes, the presence of onsen, or hot springs baths, makes it impossible to forget the geothermic power lying just below the surface of much of Japan. Onsen are dotted over nearly every part of Japan, from rustic baths dug into the steep faces of the high Alps to luxurious…