Tailor Made Tours to Japan created just for you
In addition to our scheduled tours, we also offer itineraries tailored exactly according to your requirements. With our Tailor Made Tours, we can help design your dream holiday to suit your budget, the time of year, hotel type and particular interests. Whether you prefer to self-guide, would like to visit a particular area or are interested in something specific like Japanese gardens, traditional activities or sumo, we can arrange a tour just for you. We would be happy to discuss your requirements and make a detailed printed quote.
Our tailor made tours can be designed to include as much or as little support as you need. You may be interested in our services if you haven't travelled in Asia before, are travelling with young children, or just prefer to be looked after! We offer the following special features to help you settle in more easily.
Airport Meeting Service
We meet you from your flight and escort you to your hotel so you can relax as soon as you land. How you get there is up to you – a private transfer or escorted on the Limousine Bus or Airport Express train.
Orientation Service
We ease you into Japanese life, taking you through the following:
Converting your rail pass and booking train tickets for your journey which can only be done once you arrive in Japan
Visiting a restaurant and understanding the menu
We will also advise on Japanese cuisine and basic dining etiquette
Changing money
Getting connected with a pocket wifi router if you've booked one
Advising on any special requirements such as travelling with small children
Learning basic phrases – good morning, thank you, excuse me, etc
Review of Personalised Tour Information
24 Hour Assistance
Whatever your needs – from general advice on sightseeing to assistance in an emergency – you can use our Japan office contact numbers for 24 hour help and advice.
Guide Services
We are able to arrange the very best professional local guides to show you around, allowing you to really make the most of your time.
Prices
The cost of tailor made tours varies according to your choice of airline, season, hotel or ryokan grade. We can design a tour according to your budget or give you an immediate indication of approximate costs.
Personalised Tour Information
As part of your tailor made tour information, we provide hotel guides, train schedules and location guides. The hotel guides include photos, facility details, access information and maps. The location guides include detailed sightseeing information with recommended routes and activities.
Quote
We initially present this as a suggested itinerary, with a map showing the proposed route and a brief day by day review of activities.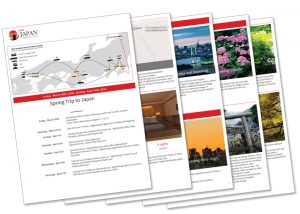 We then describe each day in full, detailing all arrangements, such as hotels, rail journeys and reservations.
Detailed Itinerary
About a month before you travel, you will receive your detailed information pack. This goes into more detail and includes information on all arrangements, with addresses in both English and Japanese. Train schedules tell you about each journey you will make, including travel times, platform numbers as well as train names and numbers. Restaurant bookings give details on your reservation and include addresses and maps. The What's Included section details everything that's included in your trip so there are no surprises or hidden costs!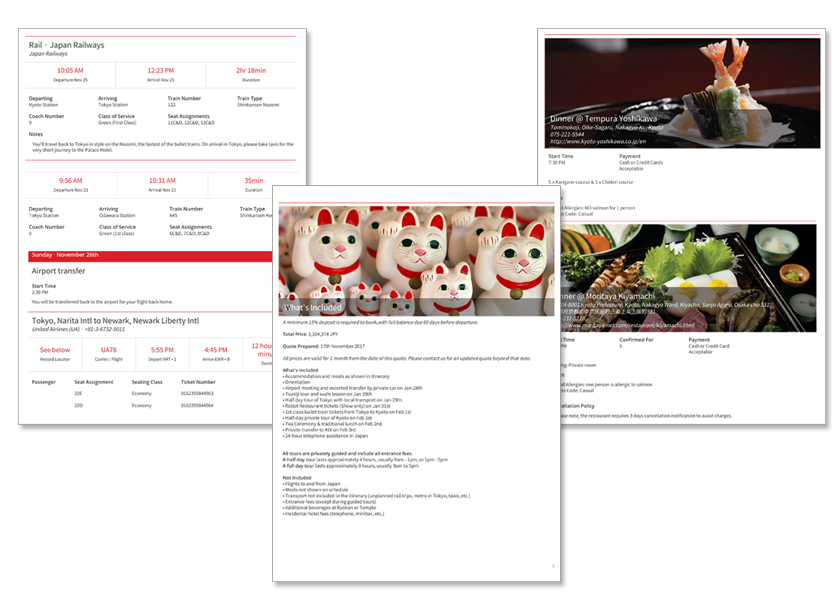 General Advice
We also include several pages of useful information about visiting Japan.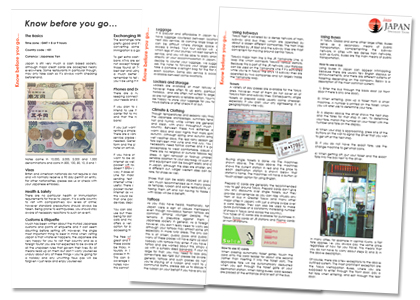 Our Travel App
Prior to departure, we provide clients on our Tailor Made Tours with a download link to access their itinerary via our Travel App. Available for both iOS and Android, this gives instant access to your itinerary wherever you are. With live weblinks and integration with Google Maps, getting around Japan has never been easier!
The app also allows for live updates and messaging. If there are any changes to your plans while you're in Japan, we will instantly update you.
Below you can see a very short movie showing the app in use:
Please contact us for further information.
Contact us
Tel: 01865 841443
Fax: 01865 841445
Into Japan Specialist Tours
The Dovecote, Manor Farm, Ball Lane, Tackley, Oxfordshire OX5 3AG