On her latest trip to Japan, Into Japan's Karan decided to get creative in Kyoto. With such a rich culture and history of tradition and creativity, Kyoto is the perfect place to turn your hand to something artistic. Lanterns abound not only in Kyoto but in Japan as a whole, providing a wonderfully soft, glowing backdrop to myriad festivals and celebrations. Here Karan learns how they are made.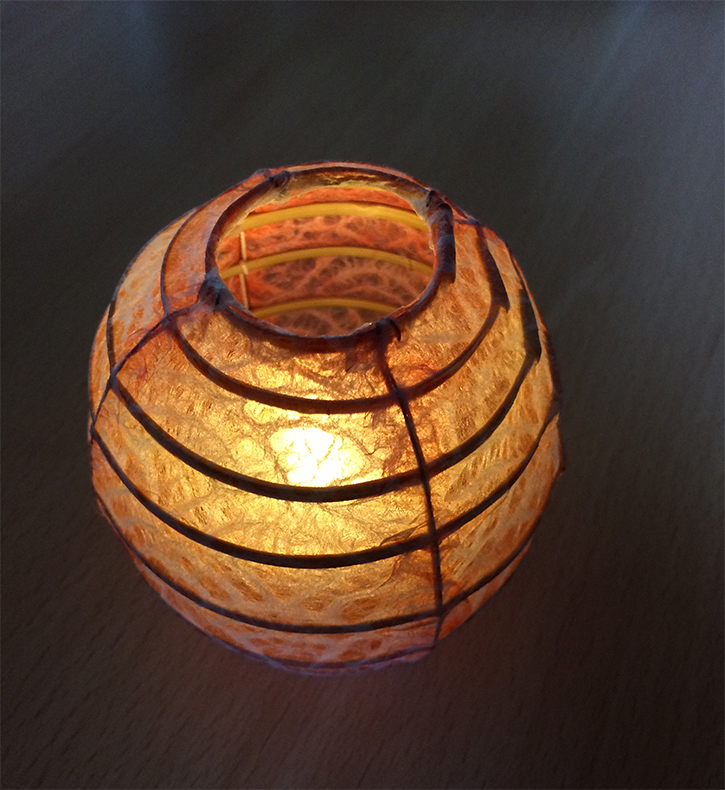 Kyoto is a city steeped in history and culture and the perfect place to experience Japanese craftsmanship. The seat of the Imperial Court for over 1,000 years, Kyoto shaped and influenced Japanese arts & crafts. It is still an important centre for traditional Japanese crafts today. It is famous for lacquerware, pottery, silk weaving and dyeing, folding fans, and a myriad of other crafts. I was fortunate enough to be able to experience a snippet of Kyoto's rich craft tradition with a visit to the Kobishiya Chube Atelier.
Kobishiya Chube, where the experience takes place, is located about an 8-minute walk away from Tofukuji Station. It is only a short train ride away from Kyoto Station. However, in inclement weather it may be better to just take a taxi or private car to the workshop.
Kobishiya Chube was founded about 220 years ago and has helped illuminate countless temples, shrines, shops, and restaurants with the soft glow of their lamps. Now the traditional technique of lantern making called jibari-shiki is carried on by two brothers, Shun and Ryo Kojima.
Shun and Ryo greeted me at the door and showed me into their workshop. The experience takes place in the workshop itself, so I entered to the sight of a giant lantern, as tall as me. Shun briefly explained to me the history of their shop and what kind of lanterns they make, before showing me to my seat. The bamboo skeleton of my lantern to be was already waiting for me, stretched out on a wooden frame.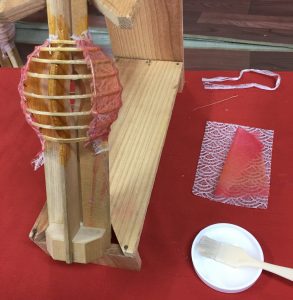 Ryo helped me pick out some appropriate paper and told me how it should be layered to provide the nicest pattern. Shun then showed me how to glue the frame and then stretch the coloured washi paper over each strut of the lantern. Once I had completely covered the lantern, it was finished and Ryo dried it with a hairdryer.  During the experience Ryo and Shun both chatted to me about their work, and were very friendly and pleasant to talk to.
While I was making my mini-lantern, other craftsman continued working on the giant lantern. It was an arm span wide and high and the workers needed a ladder to thread the higher struts. They are currently quite busy making lanterns for upcoming festivals and various shops, so the workshop was a hive of activity.
Once my lantern had finished drying, I was given a nice little box to take it home in and they also gave me an LED tealight candle to use with it. Apparently, you shouldn't let it come close to a flame, which was good to know!
Creating my own little lantern allowed me to see a side of Kyoto I had never seen before, which was a wonderful experience. I will treasure my chibi maru lantern, and the memories it contains.
In short: This is a great experience for those who want to have a hands-on experience of Kyoto's arts and crafts culture.
Recommended for: Anyone with an artistic flair, or an interest in Kyoto's traditional arts and crafts. It is quite an easy workshop so I think it would also be a great experience for older children.
For more inspiration, connect with us on Instagram @intojapan, or Facebook @IntoJapanST