Akita is both a prefecture and city in the Tohoku region of northern Japan. Its attractions are the natural beauty of its mountains and coastline, hot springs and the town of Kakunodate, which preserves one of Japan's most interesting samurai districts.
Akita city is also famous for its Kanto Matsuri Festival, which takes place at the beginning of August each year and in which participants balance long bamboo poles with dozens of paper lanterns attached to them.
It is also known as the birthplace of the Akita breed of dog, which was originally bred as a hunting dog, well suited to the cold northern climate.
Accommodation in Akita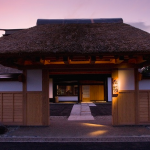 Nestled in the forested mountains of Akita Prefecture, a short drive outside the historic samurai town of Kakunodate, Wabizakura is a charmingly rustic luxury ryokan. With a combination of Japanese and Western influences, each of the ryokan's ten rooms is...

Add to my wishlist
Contact us
Tel: 01865 841443
Fax: 01865 841445
Into Japan Specialist Tours
The Dovecote, Manor Farm, Ball Lane, Tackley, OX53AG
Contact form