Although there's not much to be said for the town of Beppu, the area is one of Japan's oldest hot springs resorts, and has long been famous for its onsen baths as well as its steamier "hells." Columns of steam rise up throughout the town – Beppu is one of the world's most active geothermic regions, with over 3000 thermal springs.
The area's jigoku, or "hells," are breathtaking: hot, multi-coloured pools, geysers and bubbling mud surrounded by beautifully lush botanical gardens make Beppu well worth the visit.
Experiences in Beppu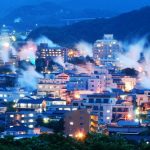 One of the most famous hot spring resort towns in Japan, Beppu has 8 different natural springs feeding the many ryokan and public baths in the town and together they produce more onsen water than any other resort in the...
Accommodation in Beppu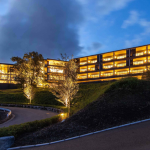 A calming oasis, perched in the foothills overlooking Beppu, one of Japan's most renowned hot spring towns, this contemporary hot spring and spa resort is truly a place to unwind and enjoy world-class amenities. The rooms at ANA InterContinental Beppu...

Add to my wishlist
Contact us
Tel: 01865 841443
Fax: 01865 841445
Into Japan Specialist Tours
The Dovecote, Manor Farm, Ball Lane, Tackley, OX53AG
Contact form