The Noto Peninsula is a very scenic area in the northern part of Ishikawa Prefecture, best known for its coastal scenery. Because public transport in the area is limited, renting a car is the best way to explore.
Accommodation in Noto Peninsula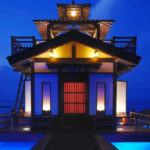 A luxury rural 'sanctuary' retreat located on the very tip of the Noto Peninsula, Lamp no Yado sits right beside the sea overlooking its very own private beach. Every room is Japanese style and has a private bath to relax...

Add to my wishlist
Contact us
Tel: 01865 841443
Fax: 01865 841445
Into Japan Specialist Tours
The Dovecote, Manor Farm, Ball Lane, Tackley, OX53AG
Contact form