Tokushima Prefecture is situated on the eastern side of Shikoku and the prefectural capital is Tokushima City. Its is connected to mainland Japan by the Akashi-Kaikyo and Naruto Bridges, and can be reached from Osaka in two and a half hours.
The prefecture is best known for the Awa Odori, a dance festival held in August, the whirlpools of Naruto and the scenic Iya Valley.
Experiences in Tokushima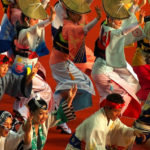 The Awa Dance (Awa Odori) is Tokushima's largest annual event and boasts a history of over 400 years. The festival is well established in various areas even outside the prefecture, and Awa Dance troupes are regularly invited to events outside...

Add to my wishlist
Contact us
Tel: 01865 841443
Fax: 01865 841445
Into Japan Specialist Tours
The Dovecote, Manor Farm, Ball Lane, Tackley, OX53AG
Contact form