Aomori is both the northernmost prefecture and prefectural capital on Honshu, Japan's main island.
Formerly the main transport hub for accessing Hokkaido, the opening of the Seikan Undersea Railway Tunnel and the rise of cheap domestic flights means that most travellers now bypass the city altogether.
Today the city of Aomori is best known for its stunning Nebuta Matsuri festival, which takes place from August 2nd – 7th each year. There are daily parades of huge lantern floats, followed by large taiko drums, musicians and dancers. The Nebuta Matsuri, along with with Akita's Kanto Matsuri and Sendai's Tanabata make up the Tohoku Sandai Matsuri; The Three Great Festivals of the Tohoku Region.
The small village of Shingo in southern Aomori Prefecture is also known as the burial place of Jesus Christ, according to local legend!
Experiences in Aomori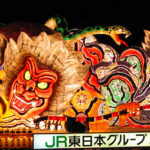 Nebuta Matsuri is a summer festival that takes place in Aomori, Aomori Prefecture. The festival attracts the most tourists of any of the country's nebuta festivals, and is counted among the three largest festivals in the Tohoku region. It was...

Add to my wishlist
Contact us
Tel: 01865 841443
Fax: 01865 841445
Into Japan Specialist Tours
The Dovecote, Manor Farm, Ball Lane, Tackley, OX53AG
Contact form