At the base of Kyoto's western hills, Arashiyama and Sagano are most famous for their bamboo groves, which are spectacular (the most impressive grove is outside Tenryū-ji's northern gate), but the area is also full of temples and gardens. Although there are many temples to visit, we especially recommend Tenryu-ji, Jojakko-ji, Gio-ji and the Nenbutsuji temples, Adashino and Otagi.
The Iwatayama Monkey Park can be found just south of the Togetsukyo Bridge. After hiking uphill for about ten minutes, visitors will find an open area with over a hundred monkeys roaming freely. There are also nice views down onto the city.
Running the Hozu River rapids in a traditional boat is a wonderful way to take in some of Kyoto's greener scenery. The ride takes about two hours, and boats leave every hour during the warmer seasons, so you won't need a reservation. Simply make your way to JR Kameoka station: the boat trip is traditionally paired with a return on the romantic train – touristy, yes, but enjoyable and scenic all the same – if you do this you'll need to change trains or take a bus from Torokko Kameoka Station. The river trip costs 3,900 yen per person.
Accommodation in Arashiyama
Opened in Spring 2015, Suiran is a luxury ryokan-style hotel situated in the grounds of Tenryu-ji temple, to the west of Kyoto, and overlooking the beautiful scenery of the Hozugawa River. Two nearby structures, which are more than 100 years...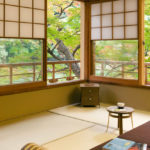 The resort is located in the hills to the west of Kyoto, in Arashiyama, an area favoured as a nature retreat by the people of Kyoto since the time of the first emperors of Japan. All 25 rooms offer a...

Add to my wishlist
Contact us
Tel: 01865 841443
Fax: 01865 841445
Into Japan Specialist Tours
The Dovecote, Manor Farm, Ball Lane, Tackley, OX53AG
Contact form