The Fuji Five Lakes area is found at the northern base of Mount Fuji around Lakes Kawaguchiko, Saiko, Yamanakako, Shojiko and Motosuko. It is one of the best places to see fabulous views of Mount Fuji from a close distance and also a good base for those wishing to climb the mountain.
Hiking, camping, fishing and other sports are among the popular outdoor activities that can be enjoyed in the area. There are also many hot springs and museums found nearby, along with Fuji Q Highland, one of Japan's most popular amusement parks, which has some of the best roller coasters in the world.
Among the lakes, Lake Kawaguchiko is the easiest to access and offers the most things to see and do for most foreign travelers. The four other lakes are less developed than Lake Kawaguchiko and are not as easy to access by public transport.
Experiences in Fuji Five Lakes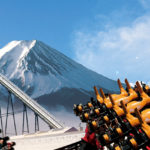 Fuji-Q Highland is not only Japan's most scenic amusement park (the views of nearby Mount Fuji are stunning on clear days) but also the most thrilling. All of the three main roller coasters set records when they were built: Fujiyama...
Accommodation in Fuji Five Lakes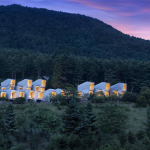 Hoshinoya Fuji lies on the slopes of a hill overlooking Lake Kawaguchi. Japan's first luxury glamping resort, this is an intimate place, hidden from the world by a pristine red pine forest and mountain mists, but at the same time...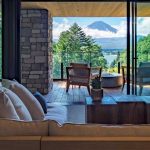 Opened in Autumn 2018, Fufu Kawaguchiko is a small luxury ryokan with 32 guest rooms, each of which boast spectacular views of Mt. Fuji, a private fresh-air hot spring bath lined with volcanic stone from Mt. Fuji and eco-friendly bioethanol...

Add to my wishlist
Contact us
Tel: 01865 841443
Fax: 01865 841445
Into Japan Specialist Tours
The Dovecote, Manor Farm, Ball Lane, Tackley, OX53AG
Contact form