Located on the northern coast of Kyushu, Fukuoka has since long ago served as Japan's gateway of Korea, China and the rest of Asia. Having links with these foreign lands, it attracted considerable attention of continental Asian nations and it is not surprising that it was Fukuoka which came under threat from Mongol invasions of the late 13th century. Saved by a chance storm, or the "divine wind", known as kamikaze, Fukuoka was left untouched and free to develop in the centuries to come. During the Edo period , Naka River which flows through the city, divided the town into two distinct district – the castle town of Fukuoka and Hakata, the town of merchants and commoners.
Although since its unification in 1889 Fukuoka has developed into a modern, cosmopolitan city, cultural heritage and rich culinary traditions continue to live on in Hakata's vibrant districts of Nakasu and Tenjin. In shops and galleries, you can admire Hakata Dolls, Hakata textiles and other local crafts. Among culinary specialties, you should certainly try the famous ramen noodles, served at small yatai stalls along the Naka's riversides.
Experiences in Fukuoka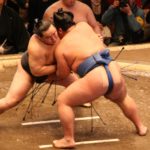 The most Japanese of the national sports, the ancient art of sumo wrestling is part ritual, part ceremony, and all pure excitement. The short bouts make sumo a surprisingly accessible sport, and the rules of the game are essentially simple:...
Accommodation in Fukuoka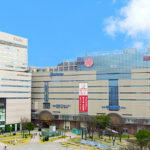 Located conveniently in central Fukuoka, only a 3-minute walk from Tenjin Subway Station and having direct access to Nishitetsu Tenji Station, Hotel Solaria Nishitetsu is a modern, stylish hotel. Guests can swim at the indoor pool and refresh in the...

Add to my wishlist
Contact us
Tel: 01865 841443
Fax: 01865 841445
Into Japan Specialist Tours
The Dovecote, Manor Farm, Ball Lane, Tackley, OX53AG
Contact form