Gunma is a landlocked prefecture in the Kanto Region, famous for its many popular hot springs and scenic beauty. Among Gunma's best known hot spring resorts are Kusatsu Onsen and Ikaho Onsen.
Experiences in Gunma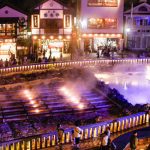 Kusatsu Onsen has been established as one of Japan's most popular hot spring resorts for many centuries. Located in rural Gunma Prefecture, 1200 metres above sea level in the mountains, the town offers skiing in winter and hiking during the...

Add to my wishlist
Contact us
Tel: 01865 841443
Fax: 01865 841445
Into Japan Specialist Tours
The Dovecote, Manor Farm, Ball Lane, Tackley, OX53AG
Contact form