Ikaho Onsen is a hot spring resort nestled in the misty hills of Gunma Prefecture, about an hour by car from the Shinkansen Station at Takasaki and two from Tokyo.
The forested hills behind Ikaho Onsen make up Ikaho Shinrin Koen, or Ikaho Forest Park, 224 forested hectares encompassing several small peaks, valleys, and beautifully scenic walking trails.
The park has hiking trails of all levels, as well as stands of cherry trees and Japanese maples, making it a lovely place to visit in the spring and autumn, as well as in the lush green summer. Hiking trails range from one to four hours in length, providing a variety of walks for those with different energy levels.
Mount Haruna, a long-dormant volcano whose eastern slopes are home to Ikaho Onsen, rises up from the plain in a jumble of peaks, has a summit caldera, with fifteen distinct peaks (the most famous of which is the conical "Haruna Fuji") and the crater lake, Lake Haruna.
With the symmetrical cone of Haruna Fuji behind the reflective waters, Lake Haruna is a delightful place to boat during the summer months, where swan-shaped paddle boats can be rented for forays out onto the water, and in the winter the lake is a popular spot for ice skating and ice fishing.
Ikaho onsen is also the home of the fabulous Kaichoro Ryokan.
Accommodation in Ikaho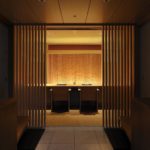 One of the newest of Japan's top ryokan, Ikaho Onsen's Kaichoro is perhaps the most luxurious: flawless rooms meld the best of Japanese and Western architecture, secluded open-air onsen baths are ensuite to all suites, and exquisite French Kaiseki dinners...

Add to my wishlist
Contact us
Tel: 01865 841443
Fax: 01865 841445
Into Japan Specialist Tours
The Dovecote, Manor Farm, Ball Lane, Tackley, OX53AG
Contact form