Ise is known for its shrine, Ise-Jingu, one of Japan's largest shrine complexes. The shrine dates back to the 3rd century, and comprises of the outer (Gekū) and inner shrine (Naikū). The Shinto tradition dictates that the shrine buildings are rebuilt every 20 years, as exact replicas of the original, using all the ancient construction techniques: no nails, wooden dowels and interlocking joints. Wood from the old shrines buildings is then used to reconstruct the main torii gate at the entrance to the holy grounds. The last time the shrine was rebuilt was in 2013. Although this frequent reconstruction is extremely costly and requires unique skills, no one really understands the rationale behind this ancient tradition.
Other points of interest nearby include Meoto Iwa – the 'Wedded Rocks', Oharai Machi – a street with reconstructed historical buildings and Okage Yoko-chō – an area just off Oharai Machi.
Accommodation in Ise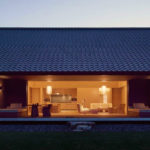 Opened in March 2016, Amanemu was Japan's second Aman Resort. Amanemu embraces the ancient Japanese bathing tradition of onsen, using nutrient-rich thermal springs to provide a contemplative and restorative retreat set among serene natural surroundings. Perched on the rolling hills...

Add to my wishlist
Contact us
Tel: 01865 841443
Fax: 01865 841445
Into Japan Specialist Tours
The Dovecote, Manor Farm, Ball Lane, Tackley, OX53AG
Contact form