A small town in northeastern Kagawa Prefecture, Shikoku, Kotohira is primarily famous for Kompirasan, Shikoku's most popular shrine. Kompirasan is dedicated to seafaring, and is said to have one of the most difficult shrine approaches in Japan. Nearby is the historical Kanamaruza kabuki theater, Japan's oldest surviving, complete kabuki playhouse, which still stages kabuki performances from time to time.
Accommodation in Kotohira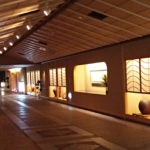 Just a 5-minute walk from JR Kotohira Train Station, Kotosankaku provides Japanese rooms with traditional futon beds, a minibar and Konpira Mountain views. Hot-spring baths, traditional meals and massage services are featured. Tatami (woven-straw) floors and shoji paper screens create...

Add to my wishlist
Contact us
Tel: 01865 841443
Fax: 01865 841445
Into Japan Specialist Tours
The Dovecote, Manor Farm, Ball Lane, Tackley, OX53AG
Contact form