Reaching its conical and often snow-capped volcanic peak 3,776 metres into the sky, Mount Fuji, or Fuji-san in Japanese, is Japan's highest mountain – and in many ways its symbolic heart.
Though dormant, Mount Fuji is respected, and revered, in a country very much tied to Shinto roots in which kami, or gods, inhabit natural features of the landscape. According to Japanese legend, Mount Fuji is home to the kami Konohana Sakuya Hime, and shrines dedicated to the goddess grace both the base and summit.
Traditionally climbed only by pilgrims, Mount Fuji is now scaled by hundreds of thousands of visitors from Japan and abroad each year. During the official climbing season in July and August it is most popular to ascend the mountain overnight to see the sunrise. It is said that on clear mornings you can see both oceans from the peak: the Pacific and the Sea of Japan. Though the trails aren't quiet, a certain sense of camaraderie exists amongst climbers, making the hike a unique experience. Outside the climbing season, attempting Mount Fuji is strictly the realm of experienced mountaineers.
Many people believe that Mount Fuji is best enjoyed from a distance: the area around the historic hot springs resort at Hakone in particular is known for its superlative views of the surrounding mountains, including the iconic Mount Fuji.
Once a popular stop on the old Tokaido Road, Hakone is now an equally popular holiday destination, and the region is now criss-crossed by ropeways, cable-cars, and funicular or cliff railways linking a variety of museums and sights. The geothermic Great Boiling Valley, where sulphur scented steam rises into the air is one of Hakone's most spectacular sights, and the black-shelled "onsen eggs" that are cooked in hot pools above the valley and are reputed to give long life.
Accommodation in Mt Fuji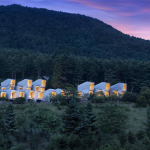 Hoshinoya Fuji lies on the slopes of a hill overlooking Lake Kawaguchi. Japan's first luxury glamping resort, this is an intimate place, hidden from the world by a pristine red pine forest and mountain mists, but at the same time...

Add to my wishlist
Contact us
Tel: 01865 841443
Fax: 01865 841445
Into Japan Specialist Tours
The Dovecote, Manor Farm, Ball Lane, Tackley, OX53AG
Contact form