The host of the 1998 Winter Olympics, Nagano city is surrounded by world-class ski slopes and breathtaking summer hiking.
Nagano city grew up around the Zenkoji temple. Founded in the seventh century, this ancient place of worship holds a statue of Buddha which is said to be the first such effigy brought to Japan. Every seven years a replica of the hidden statue is put on public display – the next viewing is scheduled for 2017.
The temple also offers "the key to paradise" attached to a wall in an underground tunnel. Any visitor able to locate and touch the key in the pitch black tunnel is reputedly granted enlightenment.
Accommodation in Nagano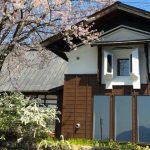 Following a visit to Togari Onsen in northern Nagano, David Lee discovered the ancient and long empty storehouse that would become The Kura. The property was purchased for Into Japan Specialist Tours and a lengthy but loving restoration project began....

Add to my wishlist
Contact us
Tel: 01865 841443
Fax: 01865 841445
Into Japan Specialist Tours
The Dovecote, Manor Farm, Ball Lane, Tackley, OX53AG
Contact form