Okayama's main attraction is Korakuen, one of Japan's three most famous landscape gardens. This superb strolling garden, set against the backdrop of Okayama Castle, remains much as it did on completion over three hundred years ago. Okayama is a busy transport hub, and Korakuen makes a wonderful break for visitors changing bullet trains here.
Nearby, the area offers other attractions such as cycling on the Kibi Plain and for art lovers, the famous ceramics town of Bizen.
Accommodation in Okayama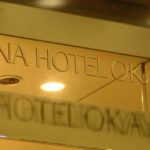 The ANA Hotel Okayama stands proudly as a stylish and sophisticated addition to the city's skyline. Conveniently located at the hub of the Chugoku and Shikoku regions, it is both easily accessible and a popular stop for visitors to the...

Add to my wishlist
Contact us
Tel: 01865 841443
Fax: 01865 841445
Into Japan Specialist Tours
The Dovecote, Manor Farm, Ball Lane, Tackley, OX53AG
Contact form