Strung out to the south of Japan, the island chain of Okinawa reaches nearly as far as the Tropic of Cancer: pristinely white-sanded in the blue waters of the East China Sea.
Originally an autonomous kingdom, the islands were once known as the Ryukyu Islands, and have a culture, climate and cuisine that are simultaneously Japanese and non-Japanese. Okinawan architecture, arts, and cuisine are all unique to the islands. To the mainlanders, Okinawa is exotic; almost foreign.
People come here for the scuba diving and the superb beaches, and a number of world- class resorts dot the coastlines. Away from the coral reefs and untouched wilderness of the more remote islands, the prefectural capital of Naha is famous for pottery and markets.
Experiences in Okinawa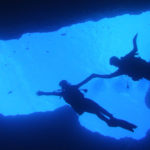 Japan is not well known as a top diving destination, but there are excellent dive spots throughout the archipelago - from Okinawan coral reefs in the far south to ice diving in Hokkaido's cold northern waters. Japan's rugged coastlines, where...

Add to my wishlist
Contact us
Tel: 01865 841443
Fax: 01865 841445
Into Japan Specialist Tours
The Dovecote, Manor Farm, Ball Lane, Tackley, OX53AG
Contact form