Tsumago, once just another post town on the Nakasendo road, is now the most famous of a handful of well preserved villages along the Kiso Valley stretch of the ancient highway. The town itself is most pleasant early in the morning or after the tourist buses (which park outside the pedestrian-only town) have left for the day. We highly recommend wandering the few back streets as well as the main road. Many of the old houses sell the area's famous lacquer ware and other interesting crafts.
Poverty, more than anything else, is to credit for the impressive preservation of the Kiso Valley towns: for a long time people simply couldn't afford to build new houses. In the 1960s town residents recognised these old houses as an asset, and though many of the old buildings date back to more recent times than the Edo Period, the government sponsored preservation project makes a lovely change from the more modernised towns prevalent in Japan.
During the Edo Period, all post towns had both a Honjin and a Waki Honjin. The Honjin was the home of the village headman; the Waki Honjin served as accommodation for the travellers of high rank who regularly traversed the Nakasendō. While Tsumago's Waki Honjin is a faithful reconstruction of the Edo Period building, the Honjin itself is the original, and the craftsmanship is stunning. A combination ticket to both costs 700 yen.
Experiences in Tsumago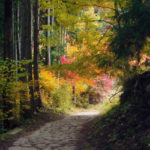 In the Edo Period (1603 - 1867), a trade route was developed between Edo (Tokyo) the new capital and Kyoto, the former capital. This route was known as the Nakasendo, the 'Way through Mountains' and today much of the original...
Accommodation in Tsumago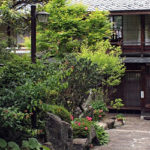 Fujioto is, hands down, our favourite place to stay in the Kiso Valley. Conveniently located on the main road in historic Tsumago, this charming, family run ryokan provides friendly service and delicious traditional meals. As with all accommodation in the...

Add to my wishlist
Contact us
Tel: 01865 841443
Fax: 01865 841445
Into Japan Specialist Tours
The Dovecote, Manor Farm, Ball Lane, Tackley, OX53AG
Contact form