A large prefecture in the Tohoku region on the northeastern coast of Honshu, Iwate Prefecture is surrounded by Sendai, Akita and Aomori Prefectures. Its bountiful nature, including scenic mountains and a rugged and beautiful coastline, has formed the basis of a rich regional culture.
Iwate has much to offer visitors, including some of Japan's most remote and rustic hot springs, beautiful cherry blossoms and plenty of folklore and history, as well as the Tohoku region's leading ski resort.
Accommodation in Iwate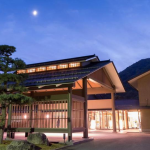 Nestled in the forests in the outskirts of Hanamaki, the renowned Japanese style inn Hanamaki Onsen Kashoen is an ideal spot from which to explore and discover Iwate. The contemporary ryokan's spacious rooms are available in Japanese or Japanese/Western style...

Add to my wishlist
Contact us
Tel: 01865 841443
Fax: 01865 841445
Into Japan Specialist Tours
The Dovecote, Manor Farm, Ball Lane, Tackley, OX53AG
Contact form