A short ride from Hiroshima across the Seto Inland Sea from Hiroshima, Miyajima quite literally means "Shrine Island" for its principal Itsukushima Shrine, the whole island has long been considered sacred by association.
Miyajima is best recognised for its iconic red torii gate – an element of what is said to be one of the three best views in Japan. The spectacular red torii gate, built on tidal sands, faces the majestic Itsukushima shrine at the foot of Mount Misen. As the tide comes, sweeping under and around the ancient shrine, the torii appears to float on the sea. The shrine itself extends on stilts over the water, and at high tide the whole shrine appears to be floating on the waves.
Historically, to avoid spiritual 'contamination', stepping foot on the island itself was allowed for devout men only, with women banned completely. Common men could approach the shrine (built specially out over the water rather than on the land), but only by passing through the large torii gate in the sea by boat first. Nowadays customs are more relaxed, but births and deaths are kept on the mainland as much as possible, and burial on the island is still legally forbidden.
The local deer are not subject to any such restrictions, or indeed any interference at all – according to the Shinto religion they are the messengers of the gods. They wander the island freely, and they will happily approach anybody they think might have food for them.
Though Miyajima can easily be visited as a day trip, we recommend an overnight stay in one of the island's superb ryokan or guest houses.
Experiences in Miyajima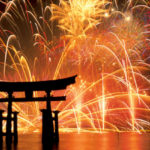 Around 5000 fireworks are launched from boats in a spectacular display just off the north shore of Miyajima Island every year in mid August. Best viewed from around Itsukushima Shrine, combined with the shrine's giant torii gate, this is one...
Accommodation in Miyajima

Add to my wishlist
Contact us
Tel: 01865 841443
Fax: 01865 841445
Into Japan Specialist Tours
The Dovecote, Manor Farm, Ball Lane, Tackley, OX53AG
Contact form