Atami is a seaside resort at the northeastern end of the Izu Peninsula, about an hour west of Tokyo by bullet train.
Although it was much developed during the bubble economy of the 1980s, with many hotels and ryokan built along the coastline, today many of these hotels lie empty and the area is trying to recover its former success.
Accommodation in Atami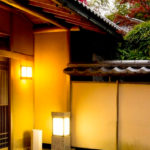 Located on a beautiful hill with a fantastic view of Sagami Bay and surrounded by the peaceful countryside, Atami Koarashitei is a lovely retreat from urban bustle. Guests can enjoy the beauty of the inner garden, relax in the hot-spring...

Add to my wishlist
Contact us
Tel: 01865 841443
Fax: 01865 841445
Into Japan Specialist Tours
The Dovecote, Manor Farm, Ball Lane, Tackley, OX53AG
Contact form