Kanazawa, best known for the stunning Kenroku-en Gardens, is one of Japan's best kept secrets. Ruled first by Buddhist monks and then by the powerful and wealthy Maeda clan, Kanazawa was once one of Japan's richest cities. It was also one of only a handful of cities to escape damage during the Second World War, and Kanazawa's older districts are consequently remarkably well preserved.
Kanazawa's treasures reflect its rich and varied history, with samurai and geisha districts rubbing shoulders with temples and the newly reconstructed castle. The city is also famed for its traditional arts of ceramics and lacquer ware as well as for its kaga-ryori cuisine.
With so much to offer and a brand new Bullet train connection from Tokyo that opened in 2015 as well as easy onward connections to Kyoto and Osaka, Kanazawa is becoming an increasingly popular location to visit.
Experiences in Kanazawa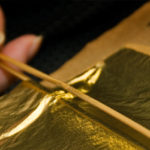 Gold-leaf is made by beating gold into an extremely thin sheet with a thickness of 0.1 to 0.125 millionths of a meter. It is so thin that it will disappear when you rub it with your fingers. The production of...
Accommodation in Kanazawa

Add to my wishlist
Contact us
Tel: 01865 841443
Fax: 01865 841445
Into Japan Specialist Tours
The Dovecote, Manor Farm, Ball Lane, Tackley, OX53AG
Contact form