Just 45 minutes by air from Okinawa main island, the group of eight Miyako Islands are a paradise for divers and snorkellers. With 400km of water separating the Miyako Islands from Okinawa Honto, the islands boast unique wildlife, and are among the few islands of Okinawa not inhabited by the poisonous habu snake.
This separation has also fostered a unique culture, and the Miyako Islands celebrate a number of festivals unlike others in Japan or on the other Okinawan islands. Into Japan is delighted to include a visit to the Miyako Islands as part of your tailor made tour to Japan.
Experiences in Miyako Islands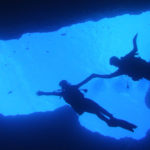 Japan is not well known as a top diving destination, but there are excellent dive spots throughout the archipelago - from Okinawan coral reefs in the far south to ice diving in Hokkaido's cold northern waters. Japan's rugged coastlines, where...

Add to my wishlist
Contact us
Tel: 01865 841443
Fax: 01865 841445
Into Japan Specialist Tours
The Dovecote, Manor Farm, Ball Lane, Tackley, OX53AG
Contact form