The largest of the sub-tropical islands that make up Okinawa Prefecture, Okinawa Island is also the most populous, with Okinawa city near the centre and the prefectural capital of Naha on the south west coast.
Naha was also the capital of the Ryukyu kingdom, and Shuri Castle remains a justifiably popular attraction. Famous for markets, Naha is also a thriving centre of pottery production, as well as boasting a vibrant nightlife. Ferries connect Naha with Osaka, Tokyo, and Taiwan, as well as the Kerama, Miyako, and Yaeyama Island groups. The area south of Naha saw some of the worst fighting during the Second World War's, and the scrubby hills are dotted with peace memorials and prayer halls.
Heading north, the population thins out, and stunning white mountain peaks sweep down to sandy beaches. Luxurious resorts dot the coastline, and ruined Ryukyu fortresses crumble quietly on green hills.
Okinawa was held under American governance until 1972, and the military bases which remain on the main island of Okinawa Honto, along with the proximity of Taiwan, lend a vibrant, international feel to the area. Into Japan Specialist Tours is happy to include a visit to Okinawa Honto as part of your tailor made tour to Japan.
Experiences in Okinawa Main Island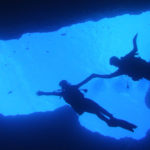 Japan is not well known as a top diving destination, but there are excellent dive spots throughout the archipelago - from Okinawan coral reefs in the far south to ice diving in Hokkaido's cold northern waters. Japan's rugged coastlines, where...
Accommodation in Okinawa Main Island

Add to my wishlist
Contact us
Tel: 01865 841443
Fax: 01865 841445
Into Japan Specialist Tours
The Dovecote, Manor Farm, Ball Lane, Tackley, OX53AG
Contact form