The Basics
Time zone : GMT + 8 or 9 hours
Country code : +81
Currency : Japanese Yen
Japan is still very much a cash based society, although major credit cards are accepted nearly everywhere. Some restaurants in particular though, may only take cash so it's always worth checking beforehand.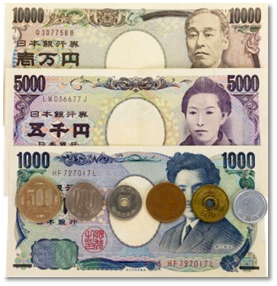 Notes come in 10,000, 5,000, 2,000 and 1,000 denominations and coins in 500, 100, 50, 10, 5 and 1
Exchanging Money
The exchange rates at Narita Airport are generally pretty good and if you arrive in Japan with no yen, converting some cash once you're through immigration is a good idea to tide you over.
To get extra cash while you're travelling, although bank ATMs are extremely common, they often do not accept foreign cards, so Post Office ATMs and those found at 7-11 convenience stores are your best bet and using a debit card is likely to give you a much better rate than a credit card. Just remember to tell your bank before you set off that you'll be using it in Japan!
Visas
British and American nationals do not require a visa and will normally receive a 90 day permit on entry. For other nationalities, please ask us or check with your Japanese embassy.
Health & Safety
There are no particular health or immunisation requirements for travel to Japan. It is a safe country to visit with comparatively low levels of crime; however standard precautions should always be taken. Being prone to earthquakes, you should stay aware of necessary reactions to such an event.
Customs & Etiquette
Much has been written about the myriad Japanese customs and points of etiquette and it can seem daunting before setting off. However, the single most important thing to bear in mind when visiting Japan is that whatever happens, the Japanese are very happy for you to visit their country and as a foreign tourist you are not expected to be aware of all the unspoken rules that govern their lives. By all means read up on them but don't worry yourselves unduly about any of these things – you're going for a holiday and any unwitting faux pas will be forgiven – just relax and enjoy yourselves!
Luggage
It is popular and affordable in Japan to pay to have luggage couriered between locations on a next day service, as carrying large bags on trains can be difficult where storage space and lift access is limited. Your tour advisor will suggest which legs of your journey will best benefit from this service, and you will be able to easily arrange this directly at your accommodation in Japan. If you decide to courier your luggage, we suggest you ask the hotel to forward your larger pieces and take a portable overnight bag for the first night at each location. Same day service is occasionally available between some locations.
Lockers and Storage
Lockers are available at most railway stations, however these often fill up early, particularly on holidays, and are often not suited to large cases, so are not generally a reliable option. Your hotel will be happy to store your luggage for you for some hours before or after check in or out.
Climate & Clothing
Though temperatures and seasons vary throughout the Japanese archipelago, summers tend to be hot and humid, while winters are generally cold and clear, with snow throughout much of the country. Between these two extremes are the warm days and cool nights that mark spring and autumn. Although spring and autumn bring some wet weather days, the real rainy season generally falls between mid June and mid July. You do not necessarily need formal clothes and it is perfectly acceptable to wear comfortable, casual clothes. There are no religious or cultural taboos regarding dress. A light raincoat or fold-up umbrella is a sensible addition to your day-bag. All such clothing and equipment can be bought easily and cheaply in Japan, although the sizes are smaller, and have a different cut. Larger western sizes can be quite rare, for shoes as well.
Shoes that can be easily slipped on and off are very much recommended as in many places such as temples, ryokan and some restaurants, you'll be taking them off and not having to fiddle around with laces will be a benefit.
Tattoos
As you may have heard, traditionally, tattoos in Japan were a sign of yakuza membership and even though nowadays fashion tattoos are quite common among younger people, there still remains a prejudice against them among Japanese society in general. As a foreign tourist however, you don't really need to worry about this although your tattoos may attract some attention, especially in more rural areas. The only caveat to this is at onsen, public pools and public baths. Many of these places will have signs up saying that nobody with tattoos may enter. If you have a small tattoo and are worried about this, simply cover it up with a suitably sized band-aid. If your ink is too large for that, you may need to look around for somewhere less rigid but please be aware that in general, tattoos and such places do not mix. If you're staying at a ryokan and want to use the communal baths, please ask us to discuss this with the ryokan on your behalf if you have any concerns.
Tipping
One of the many lovely things about Japan is their almost complete lack of a tipping culture and tipping in hotels, restaurants and bars etc is not expected or necessary.
Bathrooms
Japanese hi-tech bathrooms can be quite different from Western versions, and sometimes include auto-reheating baths and digital temperature control pads. In general, bathing is very thorough, typically including a vigorous shower before stepping into a hot bath. Bath tubs are sometimes shorter but deeper and very relaxing. In addition to standard facilities, some hotels and most ryokan offer traditional single sex communal bathing in large hot baths – an experience not to be missed once you've overcome initial modesty! Always remember to wash your body outside the bath before entering and never to get soap in the bathwater!
As you will soon discover, Japanese toilets too are more hi-tech than you're probably used to and come with electronic buttons which control various actions such as washing and blow drying your posterior as well as controlling the temperature of the heated seat. For the first timer, these can be confusing but fortunately, most come with pictograms (and sometimes English) to guide the way.
Traditional Japanese squat style toilets are much less common these days but if you're travelling in the countryside, you may come across one of these.
Public restrooms
Public toilets are plentiful and will invariably be spotlessly clean. If you're caught short while out sightseeing, convenience stores and department stores or any large retailer will almost always have a restroom available for use by the public.
Larger public restrooms will usually have a selection of western style (洋式) or Japanese style squat toilet (和式)



While they are usually very clean, please note that many will not have either soap or hand drying facilities; most Japanese carry either a small towel or handkerchief to dry their hands with.
Electrical Appliances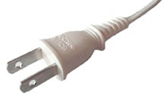 Japan has 100v current and plugs have 2 flat pins, as shown above. Visitors from the UK will need a travel adapter to use their own appliances and these can be bought cheaply from many places. Visitors from the USA should be able to use most ungrounded equipment without an adapter.
Medicines & Prescription Drugs
If you are planning to bring medicines or prescription drugs into Japan, please be aware that travellers are allowed to bring 2 months' worth of non-prescription medication without filling out any paperwork. 4 months' worth of vitamins are also allowed. Travellers wishing to take more than 2 months' worth of non-prescription medication should apply for the Yakkan Shoumei import certificate.
Drugs that are hallucinogenic, narcotic, or psychotropic are not allowed in Japan except under very special circumstances, in which case prior approval is required. For all other prescription medication, not including injections, paperwork or prior approval is not required for up to 1 month's supply. Those wishing to bring more than a month's supply or who take medication via injection must apply for a Yakkan Shoumei. This certificate is to be shown at customs in Japan.
Many common over-the-counter medications in the UK & USA are illegal in Japan. Medication including stimulants and Codeine are prohibited which means that many inhalers and cold and allergy medications are not allowed. These sort of products can easily be obtained in Japan so if you have any doubt, please leave yours at home and purchase them in Japan.
Early check in
Some flights arrive in Japan very early in the morning, for example BA flights from Heathrow arriving at Haneda Airport. Arriving on such a flight means that you will then arrive at your hotel before the permitted check in time. Some of the more luxurious hotels may sometimes be able to offer you early check in but generally, those in the 3 and 4 star range are fairly rigid about the time you can check in so it's important to bear this in mind if you're arranging your own flights. Even at hotels which may occasionally offer early check in, this can never be guaranteed and if you are arriving early in the morning, the only way to be sure of gaining immediate access to your room is to book the previous night as well.
Contact us
Tel: 01865 841443
Fax: 01865 841445
Into Japan Specialist Tours
The Dovecote, Manor Farm, Ball Lane, Tackley, Oxfordshire OX5 3AG